STEP IT Academy | We have been teaching since 1999. High-quality IT-education for adults and children. We prepare programmers, designers and system engineers who cannot be replaced by artificial intelligence. In order to achieve this, we teach how to understand tasks, run projects and work in a team, in addition to core knowledge.
Your browser Internet Explorer is out of date!
Please, use Google Chrome, Safari, Mozilla Firefox, Opera
Computer courses for children who are passionate about the technology of the future
IT program for children
In IT courses, kids will learn website design, working with graphics editors, creating games, programming, modeling 3D objects. All the knowledge can be put into practice right away. In the course of creating their own projects, students will gain teamwork skills, develop their soft skills, and learn to plan and achieve their goals.
These programs are for
For kids
Age: 7-8 years old
Your child will learn how to work with text and picture editors and how to create animations. They will also be able to prepare presentations, obtain programming skills and even learn to control a virtual robot.
For teenagers
Age: 9-12 years old
Your kids will learn about computer technologies, programming, internet, and network security. They will create their own games and 2D/3D characters, learn how to create and control LEGO robots and Arduino gadgets.
For highschoolers
Age: 13-14 years old
Our students create technical projects from scratch and develop professional game applications, websites and their own start-ups. All this knowledge and skills will be useful in their future, whichever profession they choose.
What we teach
Students are learning today the technologies that will be abosolutely essential in the future.
Programming is one of the main areas that will be relevant and in demand in the future. We help our students to learn programming from the ground up.
Our students will learn how to create games using Unity, Kodu and Construct 3 and develop designs and animations for their own 2D and 3D projects.
Program artificial intelligence and create robots
Children learn how to program, assemble and test robots, build artificial intelligence models and use them.
Create websites and mobile apps
Our students learn how to learn to create websites using one of the most popular CMS Wordpress. They will design the logic of a smartphone application, use sensors in the application: accelerometer, gyroscope, QR-code scanner.
3D modelling and 3D printing
Students learn how to model 3D objects and learn how to create characters and locations. They learn the principles of 3D printing and how to prepare an object for printing on a 3D printer.
Developing augmented reality applications
Children will work with MIT App Inventor and use cameras, graphics, animation and sound. They will be able to create VR and AR applications.
Exciting practical program
We have no boring lectures as in typical courses. In our Academy kids will watch fascinating visualization of each new lesson and listen to interesting and clear explanations with practical examples.
Control of the child's progress
You can always see your child's academic progress in Mystate progress diary. Also in the diary you can have access to all the educational materials in 24/7 format.
Comfortable education
Studying online is convenient and more flexible, a child can study from anywhere in the world as long as there is an internet connection.
ПРОГРАМИ ЗА ОБУЧЕНИЕ
За деца 8-11 г.
За деца 12-14г
Графичен дизайн с Photopea
Работа с векторна графика и Vectr
Дигитално рисуване с Krita
Основи на Adobe Photoshop
Основи на Adobe Illustrator
Видеообработка с Adobe Premiere Pro
Създаване на сайтове с Wix и Canva
Web-дизайн Junior (HTML/CSS)
Основи на Adoobe Illustartor
Създаване на сайтове с Wordpress
Видеообработка с Adobe Premiere pro
Програмиране в Minecraft с Python
Видеообработка с Adobe After Effects
3D моделиране с Autodesk 3ds max
ПРОГРАМИ ЗА ОБУЧЕНИЕ
За деца 8-11 г.
Програмиране с Minecraft
Графичен дизайн с Photopea
3D моделиране с Blender
Работа с векторна графика и Vectr
Дигитално рисуване с Krita
Основи на Adobe Photoshop
Основи на Adobe Illustrator
Роботика с Arduino
Основи на UX/UI с Figma
Видеообработка с Adobe Premiere Pro
Създаване на игри с Kodu
Създаване на сайтове с Wix и Canva
За деца 12-14г
Web-дизайн Junior (HTML/CSS)
Основи на Adoobe Illustartor
Създаване на сайтове с Wordpress
Основи на Photoshop
Видеообработка с Adobe Premiere pro
Основи на UX/UI с Figma
Роботика с Arduino
Програмиране в Minecraft с Python
Интериорен дизайн
Видеообработка с Adobe After Effects
Уеб дизайн с Adobe XD
3D моделиране с Autodesk 3ds max
Why choose us?
IT STEP Computer Academy has been operating since 1999, since the birth of the IT sphere itself! Even then, we graduated the first programmers, web designers and top IT specialists.
Why choose us?
IT STEP Computer Academy began its activity in 1999, when the IT industry just started its development and gained popularity. Even then we trained the first programmers, web designers and other IT specialists. Today, we educate students on the skills that employers and modern business need - without "dry theory", only practice and necessary information. Employers do not need your knowledge - they need your competence in solving work problems and setting up business processes.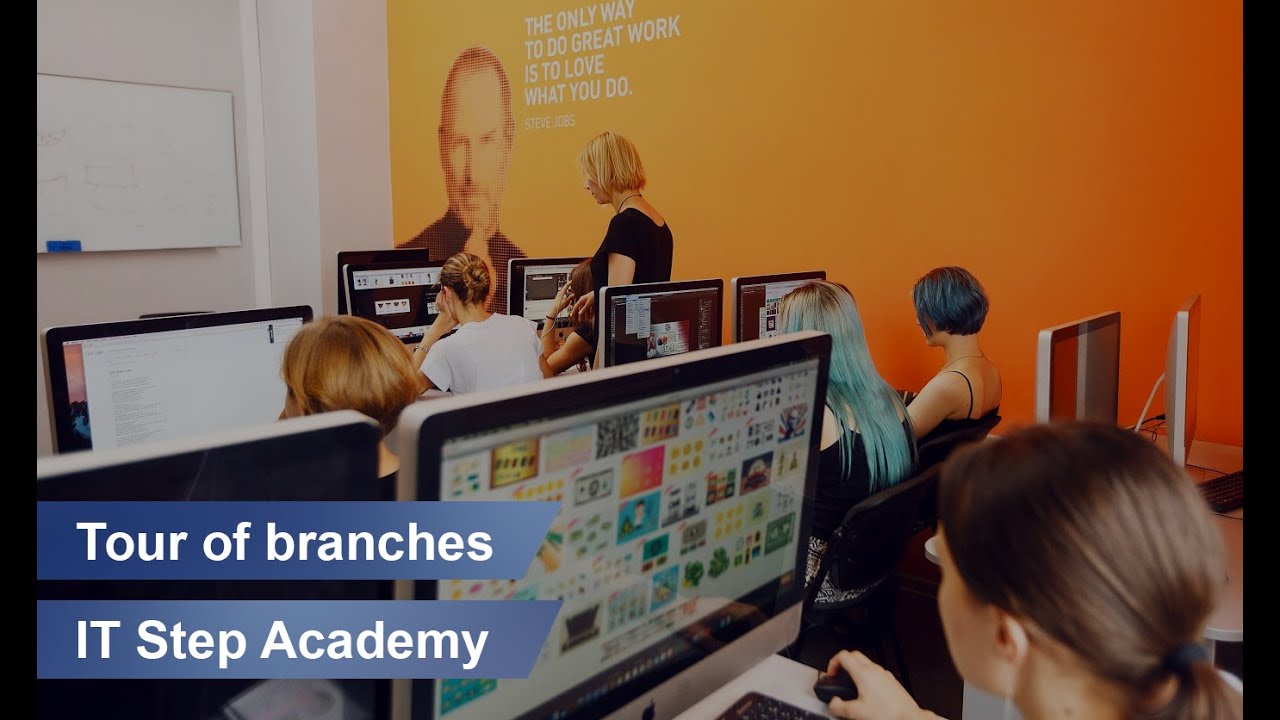 Ready to start training?
"Fill in the registration form - we will call you with details of the course program and reserve a place for you in the group."
Frequently asked questions
How many kids in the group?
Maximum class size is 10 kids
How can you try a children's computer course ?
You can sign up for the open class events. There your child can try out different areas of IT.
What kind of constructors and gadgets do you use at the STEP Junior Academy?
Children work with Arduino boards, STM32 boards, LEGO Mindstorms Education EV3 kit, as well as using 3D printers, Oculus Go VR glasses, drones, chromakey, professional video and photo equipment and modern computers.
What should I do if my child misses a lesson?
We do not offer the make up classes, but your child can use MyStat platform, where homework and all associated lesson materials are stored. In addition, you will have the option of taking a one-to-one private lesson with a teacher at STEP Academy (extra fee applies).
Is it possible to change the schedule of training in computer courses for children?
Yes, if there is a group for programming courses for children for other days and times.
What documents are needed to conclude an agreement on IT courses for children?
To enroll, you will only need an ID and your identification code.
Is homework required?
Homework is practice. It is not mandatory but if you want your child to learn the material, we recommend doing it anyway. If there are difficulties with the homework, you can always ask the teachers for help. They will be pleased to help you to understand the subject.
Sign up